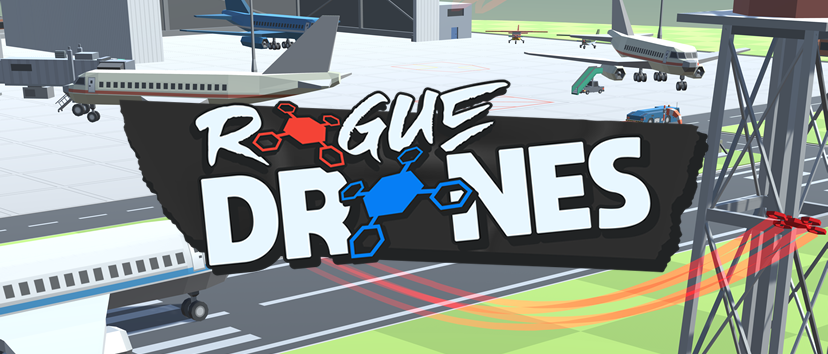 Rogue Drones
A downloadable game for Windows
Rogue Drones
You're working at the airport and the day seems to be going well, when suddenly you spot something out of the corner of your eye! It that a... drone? Panic ensues – you don't want your airport shut down, so you come up with a cunning plan. You'll get your own drone out, duct-tape a stun gun to the top of it and take out those rogue drones!
Dodge planes, helicopters, the air traffic control tower and home in on the invading drones one by one – and destroy them. When you complete that task maybe you'll make headlines in the local newspaper!
History
Suggested during a 2018 Christmas party - the game idea stems from the TV and newspaper coverage of the shutdowns at UK airports over the busy festive period. So, why not make a topical game about it? First public showing at EGX Rezzed 2019 – exhibited in the Tentacle Collective as a prototype. Mentioned in our talk "Adventures in interactive streaming – a developer's tale" at Rezzed 05/04/2019
Features
Defend your airspace: duct tape a stun gun to a drone and zap the invaders
Handles just like a real drone (ie unpredictably!)
Customised newspaper headlines when game over
Mixplay support – streamers can allow their audience to trigger effects in the live game (eg unexpected crosswinds, radio interference)
Stream interactions rewarded via personalised shoutouts in game
Play the prototype!
Download the prototype of the game, have a play and let us know what you think! The current version works best with an Xbox controller, but there are some basic keyboard controls too (WASD controls tilt, cursors control thrust/rotate, space fires).
If you have suggestions, feedback, bug reports or just want to chat then we'd love to hear from you: join us on Discord at discord.gg/centrifuge
Download
Click download now to get access to the following files:
roguedrones-windows-prototype.zip
23 MB